Uncoated Carbide Single Flute CNC Milling Tools End Mill Cutter
Product Detail
Product Tags
The single-edge cutters are particularly suitable for aluminum milling, but they also give excellent results on soft chip plastics and resins, especially if used at high rotation and feed rates.
| | | | |
| --- | --- | --- | --- |
| Brand | MSK | Material | Aluminum, aluminum alloy |
| Type | End Mill | Flute Diameter  D(mm) | 1-12mm |
| Flutes Number | 1 | Applicable machine tool | Engraving machine, engraving machine, CNC machine tool |
Advantage:
1. The processing speed of this cutter is 18000-20000/min.
2. Processing PVC, acrylic, PP board
3. It is not suitable for electric drills and bench drills. It needs to use an engraving machine or a machining center with a speed of about 20,000 rpm.
Feature:
1.Super Sharp Flute Edge
Completely new flute edge design, perfectly improved cutter performance.
2.Super Smooth Chip Evacuation
Redesigned large chip flutes while ensuring that the cutter is strong. The chip removal performance is greatly improved to prevent chip sticking.
3.High Precision Spiral
We tested out perfect spiral precision solution based on previous spiral, more smoothly on cutting and outfeeding.
Size
D1.0*2.5*D3.175*38L
D1.0*3*D3.175*38L
D1.5*3*D3.175*38L
D1.5*6*D3.175*38L
D1.5*12*D3.175*38L
D2.0*6*D3.175*38L
D2.0*8*D3.175*38L
D2.0*12*D3.175*38L
D2.0*22*D3.175*45L
D3.175*17*38L
D3.175*22*45L
D3.175*25*50L
D3.175*32*55L
D4.0*17*4D*45L
D4.0*22*4D*45L
D4.0*32*4D*55L
D6.0*17*6D*50L
D6.0*22*6D*50L
D6.0*25*6D*50L
D8.0*17*60L
D8.0*22*60L
D8.0*32*60L
D8.0*42*75L
D10.0*25*75L
D10.0*32*75L
D12.0*25*75L
D12.0*32*75L
D1.0*4*D3.175*38L
D1.5*4*D3.175*38L
D1.5*6*D3.175*38L
D2.0*12*D3.175*38L
D2.0*15*D3.175*38L
D3.175*12*38L
D3.175*17*38L
D4.0*12*45L
D4.0*22*D4*50L
D4.0*25*D4*50L
D6.0*17*D6*50L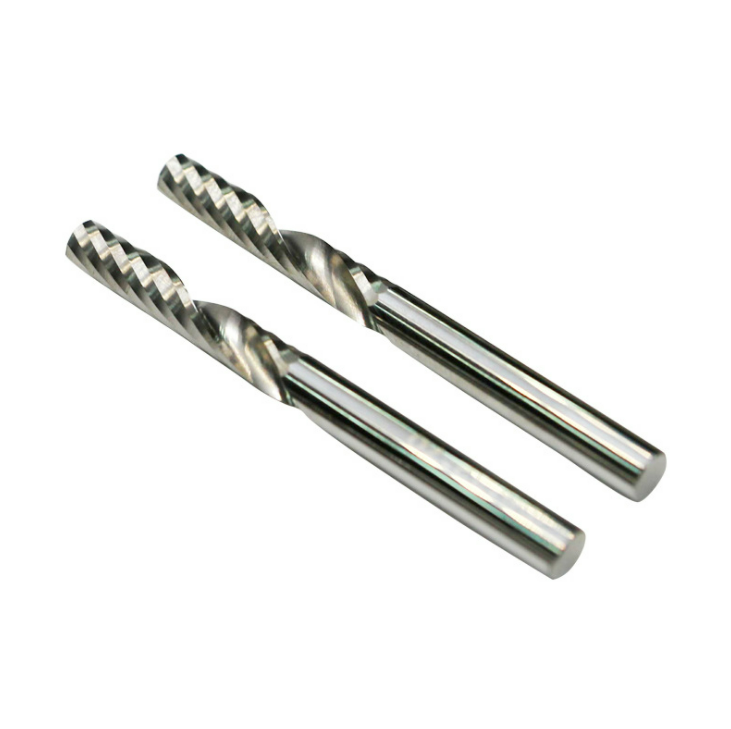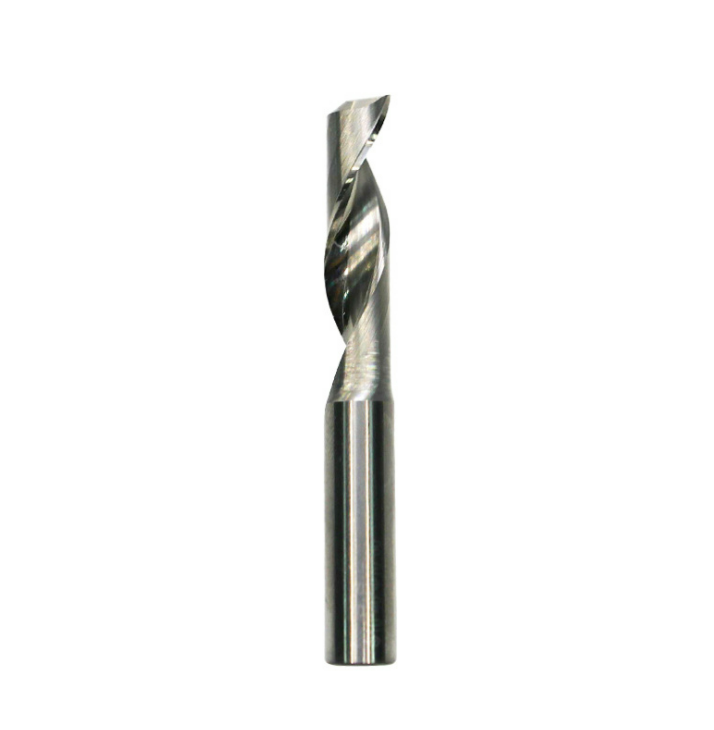 Operation Manual
In order to avoid the cutter from twisting due to excessive pressure,all cutting bits aredesigned to rotate clockwise.
When all the cutters are finished,they have passed the balance test to ensure thatthere is no doubt about runaway. In order to again ensure that the tools are free fromswing and runout during use,please pay attention to selecting machinery and equip-ment and excellent jackets.
The jacket must be of appropriate size. If the jacket is found to be rusty or worn,thejacket will not be able to clamp the cutter properly and correctly. Please replace thejacket with standard specifications immediately to avoid the cutter from rotating athigh speed handle vibration,flying off or breaking the knife.
The installation of the cutter shank should be in accordance with EU regulations,and the clamping depth of the cutter shank must be more than 3 times the diameter of the shank to maintain the proper pressure bearing range of the shank.
Cutter with larger outer diameters should be set according to the following tachometer,and slowly advance to maintain a uniform advance speed. Do not stop the advance during the cutting process. When the cutter is blunt, please replace it with a new one.Do not continue to use it to avoid tool breakage and work-related accidents.Choose the corresponding cutter for different materials. When operating and processing,please wear safety glasses and push the handle safely. When using desktop ma-chines and equipment,you also need to use anti-rebound devices to avoid accidents caused by rebounding of work objects during high-speed cutting.
---
---
Send your message to us:
Write your message here and send it to us