HRC55 Carbide 2 Flute Micro End Mill Micro-diameter tungsten steel milling cutter
Product Detail
Product Tags
Type
Milling Cutter
Material
Tungsten Steel
Workpiece Material
Coating: Quenched and tempered steel, alloy steel, tool steel, cast iron, stainless steel

Heat treated steel, carbon steel and other steel parts

No coating: Aluminium, copper,aluminium alloy, magnesium alloy, etc.

Numerical Control
CNC
Transport Package
Box
Flute
2
Coating
Uncoated for aluminium, coating for steel
Specification
See the following table
Feature:
Very fine Tungsten carbide base metal.
The new ultra-fine particle tungsten carbide base material has high brevity and hardness. It has high war resistance and strength.
Coating: TiSiN, with very high surface hardness and good wear resistance, AlTiN, AlTiSiN is also avaiable
Application: widely used in Machining, aerospaee, automobile and other precision manufacturing areas.
With superfine grinding wheel processing sharpening, 2-edge chip removal smoothly and more sharp and wear-resistant. By means of purification technology, the adhesive particles of cutting tools are removed. Multi-layer coating, reduce the number of tool changes. Processing is handy and crack-proof.
Ctting Groove is the main cutting edge, which reduces the number of tool changes. Improve the machine tool crop motility and save the time of mould making.
Mainly Applied to
Milling machine parts processing ,stainless steel case.
Watchband CNC processing industry, automotive parts CNC processing industry, CNC processing industry for Knitting large round machinery parts, CNC mould industry, Alloy CNC processing industry.
USE PRECAUTIONS
①Before using the tool,please check the knitting of the tool. When the tool deviation accuracy exceeds 0. 01 mm,please correct and then cut.
②The shorter the length of the tool extension chuck, the better. If the tool extension is longer,please adjust and reduce the speed of feed or cutting quantity by yourself.
③If abnormal vibration or sound occurs in cutting,please adjust the spindle speed and cutting amount until the situation improves.
④Steel cooling is better than spray or jet. Stainless steel, titanium alloy or heat-resistant alloy are recommended to use water-soluble cut-ting fluids.
⑤Cutting mode is selected according to the influence of workpiece,machine and software.
⑥When the cutting condition is stable, the feed speed will be in-creased by 10%-30%.
| | | | |
| --- | --- | --- | --- |
| Flute Diameter (mm) | Flute Length(mm) | Shank Diameter(mm) | Length(mm) |
| 0.2 | 0.4 | D4 | 50 |
| 0.3 | 0.6 | D4 | 50 |
| 0.4 | 0.8 | D4 | 50 |
| 0.5 | 1.0 | D4 | 50 |
| 0.6 | 1.2 | D4 | 50 |
| 0.7 | 1.4 | D4 | 50 |
| 0.8 | 1.6 | D4 | 50 |
| 0.9 | 1.8 | D4 | 50 |
| R0.1 | 0.4 | D4 | 50 |
| R0.15 | 0.6 | D4 | 50 |
| R0.2 | 0.8 | D4 | 50 |
| R0.25 | 1.0 | D4 | 50 |
| R0.3 | 1.2 | D4 | 50 |
| R0.35 | 1.4 | D4 | 50 |
| R0.4 | 1.6 | D4 | 50 |
| R0.45 | 1.8 | D4 | 50 |
Use:
Widely used in many fields
Aviation Manufacturing
Machine Production
Car manufacturer
Mold making
Electrical Manufacturing
Lathe processing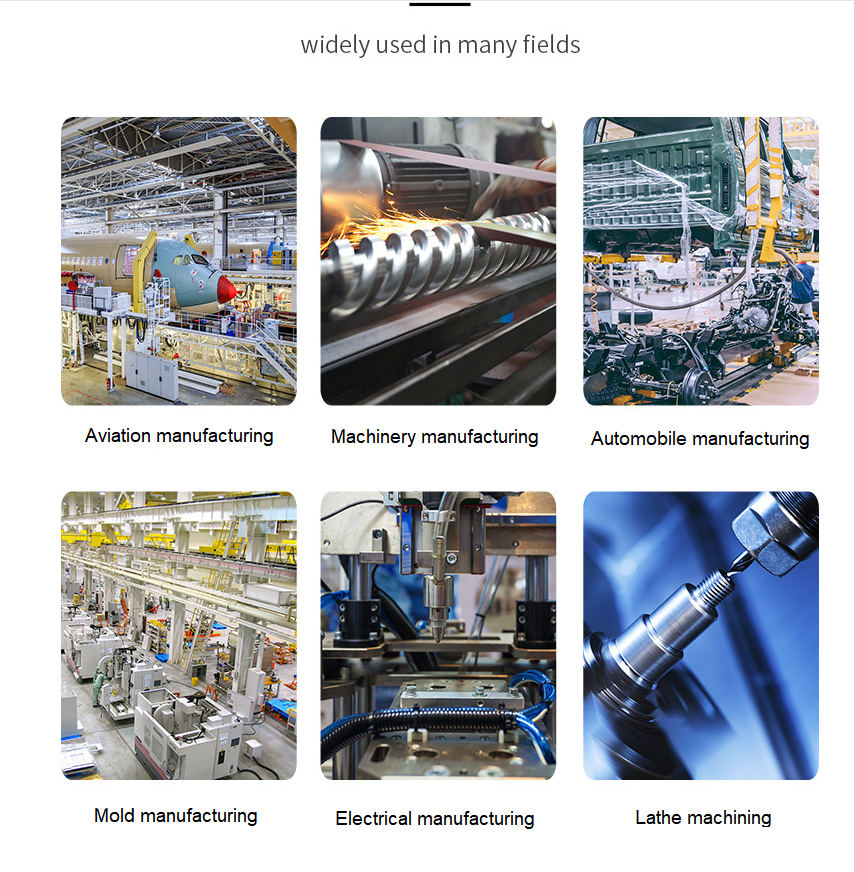 ---
---
Send your message to us:
Write your message here and send it to us
Write your message here and send it to us